Product
Tooth processing case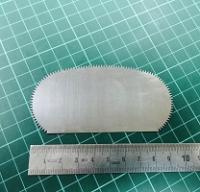 Product ID: Electrical Discharge Machining
This parts complete completely by electrical discharge machining.
This parts use thin steel plate (0.3mm), therefore supports on both sides in the jig choice with the jig the way is important, after above two conditions can affect the processing directly work piece flatness.
Because the tooth profile has the functionality, it is important in tooth shape and tooth Pitch.
Specifications:
Material:SUS304
Order Information:
Minimum Order: Any quantity all may
OEM/ODM Product, Branded Product
Contact Detail
| | |
| --- | --- |
| Contact: | Wei Huang |
| Address: | N0 3, Alley 49, Lane 76, Section 3 Chung - Yang Road, Tu-cheng City, Taipei County, 23673 Taiwan |
| TEL: | +886-2-22671809 |
| FAX: | +886-2-22670505 |
| Email: | wei@shengwei.com.tw |
| URL: | http://www.shengwei.com.tw |
| ZIP: | 23673 |