Product
Precision Machining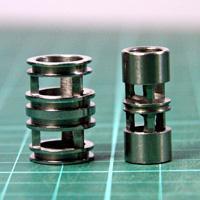 Precision Machining
Product ID: 19 - Knobs
Sheng Wei features in supplying and manufacturing various precision machining parts including tuning knobs, turning parts, milling part, CNC parts, machine shaft & metal parts, Electrol Discharge Machining, and more. All of the items are manufactured with great quality, which has brought good reputation to the manufacturer by worldwide customers.
Sheng Wei's metal precision machining experiences and professional knowledge of blow mold making, slicing & milling, and cutting & forming directly lead Sheng Wei up to the higher stage of technical field, that's why Sheng Wei's technique stands tightly in today's market, receiving high reputation from most overseas and domestic customers.
At Sheng Wei's factory in Taipei County, customers and buyers have the opportunities to view more machining metal tools/parts and pneumatic devices are also included. And Sheng Wei will focus on further more innovation to touch down buyers' demands.
Features:
Sheng Wei specialized in CNC parts, turned parts, turning parts, machine parts, machine shaft & metal parts. The parts we manufactured is widely used for following categories

Medical & Technological parts
The Automotive parts
The telecommunication parts
The power tool parts
Construction parts
The agricultural parts
Energy related parts
Art parts
Shaft parts
OA parts
Air Compressor & Hydraulic Machinery parts
By focusing on innovation and continually strive to keep up with the latest in the precision machining/turning technology, Sheng Wei is able to creat a greater quality product in a time efficient manner at an effective price for our customers.
Contact Detail
| | |
| --- | --- |
| Contact: | Wei Huang |
| Address: | N0 3, Alley 49, Lane 76, Section 3 Chung - Yang Road, Tu-cheng City, Taipei County, 23673 Taiwan |
| TEL: | +886-2-22671809 |
| FAX: | +886-2-22670505 |
| Email: | wei@shengwei.com.tw |
| URL: | http://www.shengwei.com.tw |
| ZIP: | 23673 |