Product
Semiconductor Equipment Parts ‏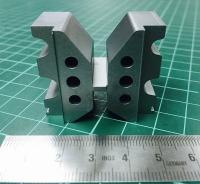 Semiconductor Equipment Parts ‏
Product ID: Electrical Discharge Machining
This work piece with Electrical Discharge Machining, divides into two projects only then to process completes.
Hole 0.005mm wheelbase requires less aperture 0.003 or less, there is a very high demand for precision.
The surface roughness of the following requirements Ra0.4, Need a rough cut, fine cut three times to complete.
Specifications:
Material:SKD11
Order Information:
Minimum Order: Any quantity all may
OEM/ODM Product, Branded Product
Contact Detail
| | |
| --- | --- |
| Contact: | Wei Huang |
| Address: | N0 3, Alley 49, Lane 76, Section 3 Chung - Yang Road, Tu-cheng City, Taipei County, 23673 Taiwan |
| TEL: | +886-2-22671809 |
| FAX: | +886-2-22670505 |
| Email: | wei@shengwei.com.tw |
| URL: | http://www.shengwei.com.tw |
| ZIP: | 23673 |