Product
Precision Machining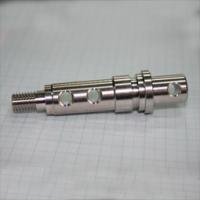 Precision Machining
Sheng Wei features in supplying and manufacturing various precision machining parts including tuning knobs, turning parts, milling part, CNC parts, machine shaft & metal parts, Electrol Discharge Machining, and more. All of the items are manufactured with great quality, which has brought good reputation to the manufacturer by worldwide customers. The precision machining is focusing on holding the symmetry and center between holes so as to improve the operation efficiency, exten the machine life and reducing lose of the production when clients insert the part into their machine. 
In addition, all precision metal parts are manufactured under Sheng Wei's strict quality control, and inspected by our state-of-the-art inspection machines to achieve a 99.999% yield rate.  Sheng Wei's metal precision machining experiences and professional knowledge of blow mold making, slicing & milling, and cutting & forming directly lead Sheng Wei up to the higher stage of technical field, that's why Sheng Wei's technique stands tightly in today's market, receiving high reputation from most overseas and domestic customers.
At Sheng Wei's factory in Taipei County, customers and buyers have the opportunities to view more machining metal tools/parts and pneumatic devices are also included. From which, we are confident to add more value for our clients for any project awarded to Sheng Wei. And we will focus on further more innovation to touch down buyers' demands.
Contact Detail
| | |
| --- | --- |
| Contact: | Wei Huang |
| Address: | N0 3, Alley 49, Lane 76, Section 3 Chung - Yang Road, Tu-cheng City, Taipei County, 23673 Taiwan |
| TEL: | +886-2-22671809 |
| FAX: | +886-2-22670505 |
| Email: | wei@shengwei.com.tw |
| URL: | http://www.shengwei.com.tw |
| ZIP: | 23673 |