Product
CNC Machining Service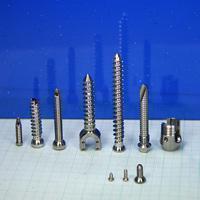 CNC Machining Service
Product ID: 01 - Medical Accessories
Sheng Wei is dedicated to the manufacture of CNC lathe machining parts as well as other CNC machining service like tuning knobs, turning parts, milling parts, and machine shafts. In addition, Sheng Wei's further more experiences of blow mold making, slicing & milling, and cutting & forming also directly lead Sheng Wei up to the higher stage of technical field; not only sustaining its product/launch quantity of CNC Lathe Machining with stability, but also upgrading its technicians' skills.

Emphasizing presenting the anti-rust and long-term use parts on precision CNC parts, the CNC machining service offered by Sheng Wei comes in multiple categories. Sheng Wei continues to advance its research on machined parts with higher standard materials such as imported high-level carbon, stainless steel, and copper. The CNC lathe machining parts are widely used in fields like medical equipment or metal machines.

Sheng Wei fully utilizes it's capabilities and state-of-the-art machining, milling & turning equipment to create a high precision CNC machining service and products, like turned parts, turning parts, machined parts, machine shaft & metal parts etc for medical equipment, accessories & supplies. Sheng Wei accepts either OEM or ODM orders. Please feel free to contact us for further details on our product.
Features:
Sheng Wei is specialized in machining services; products like turned parts, turning parts, machine parts, machine shaft & metal parts and various components are all what the supplier specialized in. The parts we manufactured is widely used for following categories

Medical & Technological parts
The automotive parts
The telecommunication parts
The power tool parts
Construction parts
The agricultural parts
Energy related parts
Art parts
Shaft parts
OA parts
Air Compressor & Hydraulic Machinery parts

By focusing on innovation and continually strive to keep up with the latest in the technology, Sheng Wei is able to creat a greater quality product in a time efficient manner at an effective price for our customers.
Contact Detail
| | |
| --- | --- |
| Contact: | Wei Huang |
| Address: | N0 3, Alley 49, Lane 76, Section 3 Chung - Yang Road, Tu-cheng City, Taipei County, 23673 Taiwan |
| TEL: | +886-2-22671809 |
| FAX: | +886-2-22670505 |
| Email: | wei@shengwei.com.tw |
| URL: | http://www.shengwei.com.tw |
| ZIP: | 23673 |