Technology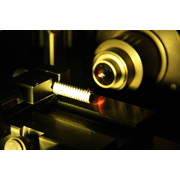 2.5D CMM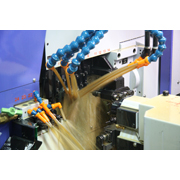 STAR 20R2 Compound CNC Automatic Turning Lathe
STAR 20R2 Compound CNC Automatic Turning Lathe
Sheng Wei uses sophisticated and state-of-the-art CNC equipment incorporated with our high-tech manufacturing machining technology, in conjunction with highly trained and skilled technician and staff and executing QC system to QS/ISO standard enabling Sheng Wei to be more innovative and efficient than our competitors allowing our customers to realize greater overall satisfaction.
Primary Competitive Advantages
Machining Technology:

Deep hole machining : The depth of the drilling hole we can reach is 10 times the drill diameter

Micro drilling : We can drill the hole as small as 0.1mm

External thread : The external thread we can make is as precise as M1 x 0.2 pitch

Internal thread: The internal thread we can make is as precise as M0.6 x 0.15

Surface roughness: We can reach Ra 0.2a, Rmax 0.8s, Rz 0.8z

Tight tolerance for OD, Length & Inner hole: We are capable of meeting the tolerance
of OD, Length & Inner hole as tight as 5μ

SCM440
The OD of the material rods/bars the CNC machines can produce is 1mm - 26mm.
Production machining, fabrication, prototyping, sampling, low volume production & assembly.
Electron Discharge Machining (EDM)
Total project management
Complete Inspection department Honing, Milling, Passivating & Heat treating.
QC
Providing inspection report refer to the different products and customers' request. And devote to do things right at the very first time and supply stable and reliable quality product.
Q.C. Equipment:
Nakazawa Rockwell Hardness Tester
Mitutoyo Contour Measuring Instrument
Optical & multi-sensor coordinate measurement machine (Werth Messtechnik GmbH)
Baty SV-210 vision measuring system
Mitutoyo Surface Roughness Tester
Baty R14 Profile Projector
Mitutoyo Optical Comparator
Nikon Stereoscopic Zoom Microscope
OLYMPUS Zoom Stereo Microscopes
Mitutoyo Toolmaker's Microscope
SK Plug Gauge (0.10 - 8.0)
SK Pin Gauge
EISEN Plug Gauge (0.10 - 8.0)
EISEN Pin Gauge
TESA Electronic Height Gauge
Mitutoyo Electronic Height Gauge
Universal Punch Corp. Concentricity Gauge
Ring gauge
TESA Micrometers, Calipers/Verniers, Cylinder Gauge
Mitutoyo Micrometers, Calipers/Verniers, Cylinder Gauge
SHIMPO CORPORATION DIGITAL FORCE GAUGE
SWISS SYLVAC Measuring bench table
SWISS SYLVAC Professional micrometer
Standards & Approvals
ISO 9001:2000, QS9000
R & D
Working closely with customers during the developing & design stage. Proposing the most possible design change subject to the reasonable manufacturing cost and workability of the products.
Contact Detail
| | |
| --- | --- |
| Contact: | Wei Huang |
| Address: | N0 3, Alley 49, Lane 76, Section 3 Chung - Yang Road, Tu-cheng City, Taipei County, 23673 Taiwan |
| TEL: | +886-2-22671809 |
| FAX: | +886-2-22670505 |
| Email: | wei@shengwei.com.tw |
| URL: | http://www.shengwei.com.tw |
| ZIP: | 23673 |