Product
Cutting tool & Tool apron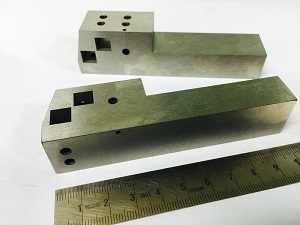 Cutting tool & Tool apron
Product ID: Electrical Discharge Machining
This work piece has used the compound expression processing, matches the Electrical Discharge Machining and the CNC milling machine processing.
Because the cutting tool easy to break in the processing process, therefore cutting tool to central high request. The hole and the plane position must in 0.01.
This piece is custom-made knife. Knife holder will also fixed three cutting tools, therefore the steel and degree of hardness are specially important, therefore chooses tool steel SKD11 to do for the material, and carries on the heat treatment, strengthens its steel and degree of hardness.
Specifications:
Material:SKD11 HRC55∘
Order Information:
Minimum Order: Any quantity all may
OEM/ODM Product, Branded Product
Contact Detail
| | |
| --- | --- |
| Contact: | Wei Huang |
| Address: | N0 3, Alley 49, Lane 76, Section 3 Chung - Yang Road, Tu-cheng City, Taipei County, 23673 Taiwan |
| TEL: | +886-2-22671809 |
| FAX: | +886-2-22670505 |
| Email: | wei@shengwei.com.tw |
| URL: | http://www.shengwei.com.tw |
| ZIP: | 23673 |