Product
Electronic cigarette (1)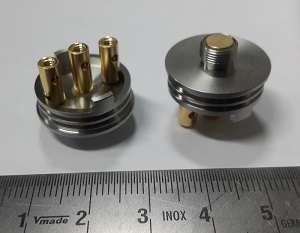 Electronic cigarette (1)
Product ID: CNC Turning Machining
This spare part is first individual by the CNC lathe processing, then carries on the assembly.

Because two work pieces must press in the assembly mutually, therefore the aperture and the outer diameter size must control in 0.008mm.

Because the copper system work piece must carry on step of the electrogilding, can have the certain membrane thick production, therefore in the front end lathe processing, the common difference must control specially, after avoids the galvanization because of surpassing the common difference, but is unable the pressure to match.
Specifications:
Material
:
SUS303 & C3604
Order Information:
Minimum Order: Any quantity all may
OEM/ODM Product, Branded Product
Contact Detail
| | |
| --- | --- |
| Contact: | Wei Huang |
| Address: | N0 3, Alley 49, Lane 76, Section 3 Chung - Yang Road, Tu-cheng City, Taipei County, 23673 Taiwan |
| TEL: | +886-2-22671809 |
| FAX: | +886-2-22670505 |
| Email: | wei@shengwei.com.tw |
| URL: | http://www.shengwei.com.tw |
| ZIP: | 23673 |