Product
CNC Turning Machining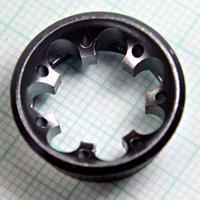 CNC Turning Machining
Product ID: Engine Segment
Sheng Wei Precision Co., Ltd., as one of the leading CNC turning machining manufacturers in the industry, offers a wide selection of parts ranging from agricultural equipment parts, automotive parts, and power tool parts, etc.
The customers are welcome to order highly-customized CNC turning machining parts because most of the auto parts require high precision technology and would work better by their own designed durability and versatility. With advanced technology and great innovation, Sheng Wei is experienced enough to offer customized services according to requirements of customers.
Sheng Wei enforces rigorous inspections on quality and safety. All the parts produced by Sheng Wei are made of steel and carbon of superior quality. Sheng Wei has complete service system for all the customers. The before-sale service offers potential customers substantial information of the products, and the after-sale service provides the well-rounded services that satisfy individual customer's demand on the customized parts.
Features:
Sheng Wei specialized in a wide range of machine parts, machine shaft & metal parts. The parts we manufactured is widely used for following categories

Medical & Technological parts
The Automotive parts
The telecommunication parts
The power tool parts
Construction parts
The agricultural parts
Turning machining parts
Energy related parts
Art parts
Shaft parts
OA parts
Air Compressor & Hydraulic Machinery parts

By focusing on innovation and continually strive to keep up with the latest in this specific technology, Sheng Wei is able to create a greater quality product in a time efficient manner at an effective price for our customers.
Contact Detail
| | |
| --- | --- |
| Contact: | Wei Huang |
| Address: | N0 3, Alley 49, Lane 76, Section 3 Chung - Yang Road, Tu-cheng City, Taipei County, 23673 Taiwan |
| TEL: | +886-2-22671809 |
| FAX: | +886-2-22670505 |
| Email: | wei@shengwei.com.tw |
| URL: | http://www.shengwei.com.tw |
| ZIP: | 23673 |