Product
Copper Electrical Discharge Machining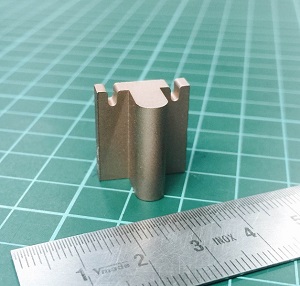 Copper Electrical Discharge Machining
Product ID: Electrical Discharge Machining
This work piece with the Electrical Discharge Machining, divides into two project processings to complete.
The work piece vertical place R angle requests below 0.25, therefore the use diameter 0.15 copper wire carry on the processing.
Because work piece request verticality below 0.01, after therefore the first project completes, in carries on before the second project processing, must carry on the survey first, the definite verticality conforms to the plan requirement, can carry on the second project processing.
Workpiece production process, is added to measure movement have spent a lot of time, but at the insistence of quality first, each step must be completed.
Specifications:
Material:Copper ( Co )
Features:
Verticality request (in perpendicular plane R angle request)
Before the second project processing must carry on the gauging.
See more complete detail
Order Information:
Minimum Order: Any quantity all may
OEM/ODM Product, Branded Product
Contact Detail
| | |
| --- | --- |
| Contact: | Wei Huang |
| Address: | N0 3, Alley 49, Lane 76, Section 3 Chung - Yang Road, Tu-cheng City, Taipei County, 23673 Taiwan |
| TEL: | +886-2-22671809 |
| FAX: | +886-2-22670505 |
| Email: | wei@shengwei.com.tw |
| URL: | http://www.shengwei.com.tw |
| ZIP: | 23673 |