Product
Fixture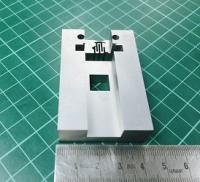 Fixture
Product ID: Electrical Discharge Machining
Such as Left: four square hole because both require R angle 0.5mm or less, so I chose to 0.25mm diameter copper processing.
Surface roughness requirements Ra0.4 below, the choice of process technology, rough cut processing time, precise cutting process three times.
The different shape part must pay attention to the cutting speed, avoids creating the work piece distortion.
Specifications:
Material:SLD HRC58~60∘
Order Information:
Minimum Order: Any quantity all may
OEM/ODM Product, Branded Product
Contact Detail
| | |
| --- | --- |
| Contact: | Wei Huang |
| Address: | N0 3, Alley 49, Lane 76, Section 3 Chung - Yang Road, Tu-cheng City, Taipei County, 23673 Taiwan |
| TEL: | +886-2-22671809 |
| FAX: | +886-2-22670505 |
| Email: | wei@shengwei.com.tw |
| URL: | http://www.shengwei.com.tw |
| ZIP: | 23673 |