Product
CNC turning machining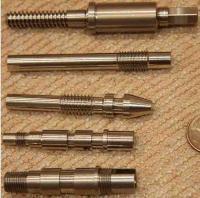 CNC turning machining
Sheng Wei Precision Co., Ltd., as one of the leading CNC turning machining manufacturers in the industry, offers a wide selection of parts ranging from agricultural equipment parts, automotive parts, and power tool parts, etc. Sheng Wei is with the most meticulous care for every single operation, because all people in Sheng Wei are well trained and aware that even a small neglect may cause a considerable loss of time and money of both sides. Each of the CNC turning machining shown on the photo focuson holding the roundness and thread precision when production.
The machining provided by Sheng Wei is precisely made because most of the parts are difficult to cut, and the roundness requests 0.05 mm only, so with the special threads such as 9/16-32 UN-2A,10-32 UNF-2A,0.145-80 UNS-3A,5/16-24 UNF-2A,2-56 UNC-2A will be a serious task for us. The customers are welcome to order highly-customized CNC turning machining parts because most of the auto parts require high precision technology and would work better by their own designed durability and versatility. With advanced technology and great innovation, Sheng Wei is experienced enough to offer customized services according to requirements of customers.
Sheng Wei enforces rigorous inspections on quality and safety. All the parts are made of steel and carbon of superior quality. Sheng Wei has complete service system for all the customers. The before-sale service offers potential customers substantial information of the products, and the after-sale service provides the well-rounded services that satisfy individual customer's demand on the customized parts.


Contact Detail
| | |
| --- | --- |
| Contact: | Wei Huang |
| Address: | N0 3, Alley 49, Lane 76, Section 3 Chung - Yang Road, Tu-cheng City, Taipei County, 23673 Taiwan |
| TEL: | +886-2-22671809 |
| FAX: | +886-2-22670505 |
| Email: | wei@shengwei.com.tw |
| URL: | http://www.shengwei.com.tw |
| ZIP: | 23673 |