Product
Special tools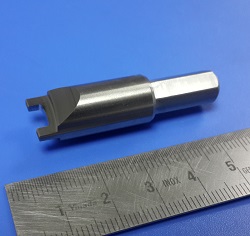 Special tools
Product ID: The others
This part processing method is: Universal grinder attrition processing.
This part needs a certain intensity, so use HESS material, but the material properties ,therefore must choose the CBN sand blast to carry on the manufacture specially.
Head shape according to guests' requests, usage and other related focus, especially for customer design manufacture.
Specifications:
HESS contains cobalt 5%
Order Information:
Minimum Order: Any quantity all may
OEM/ODM Product, Branded Product
Contact Detail
| | |
| --- | --- |
| Contact: | Wei Huang |
| Address: | N0 3, Alley 49, Lane 76, Section 3 Chung - Yang Road, Tu-cheng City, Taipei County, 23673 Taiwan |
| TEL: | +886-2-22671809 |
| FAX: | +886-2-22670505 |
| Email: | wei@shengwei.com.tw |
| URL: | http://www.shengwei.com.tw |
| ZIP: | 23673 |