Product
Fixture‏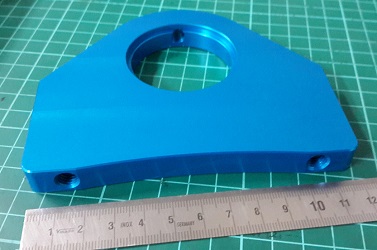 Fixture‏
Product ID: CNC milling machine
This parts use the A6061 plate, processes two projects by the CNC milling machine to complete.
Big hole and another work piece, because has the function coordination, therefore requests the real roundness in 0.005, aperture common difference below 0.008, Therefore uses bore lathe tool to complete . Processing round hole may obtain the high real roundness with bore lathe the tool.
When carries on the second project processing, the fixture clamp way must pay attention, because has the relative relations with the first project hole.(Spread of axies in 0.03)
After the processing completes carries on the anodic treatment, avoids oxidizing.
Specifications:
Material:A6061T6 Anodic treatment
Order Information:
Minimum Order: Any quantity all may
OEM/ODM Product, Branded Product
Contact Detail
| | |
| --- | --- |
| Contact: | Wei Huang |
| Address: | N0 3, Alley 49, Lane 76, Section 3 Chung - Yang Road, Tu-cheng City, Taipei County, 23673 Taiwan |
| TEL: | +886-2-22671809 |
| FAX: | +886-2-22670505 |
| Email: | wei@shengwei.com.tw |
| URL: | http://www.shengwei.com.tw |
| ZIP: | 23673 |